SpaceWar is a 2 player game with a long history, starting back to the first graphical computer game. This homage is similar to the DOS version by Bill Seiler. You can still play his version on archive.org
| | |
| --- | --- |
| Thrust | W, Num8, I |
| Left | A, Num4, J |
| Right | D, Num6, L |
| Missile | S, Num5, K |
| Beam | C, Num1, M |
| Cloak | X, Num2, , |
| Warp | Z, Num3, . |
| More Shield | Q, Num7, U |
| More Energy | E, Num9, O |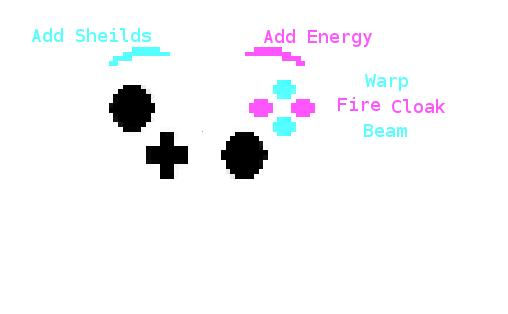 Windows, Mac, and Linux desktop builds are available at itch.io and through the excellent itch client. If you want to support my efforts, pitching in the suggested $1.95 would be appreciated.
Tips:
The Beam costs only 2 energy compared to 3 for each missile. Use the Beam to destroy as many enemy missiles as you can with each shot.
You can't be hit by anything while warping.
Missiles can't track you while cloaked, but that doesn't mean they won't hit you.
Keep your shields up, but reserve enough energy to move and fight.
Send feedback to nathanfritz@gmail.com or Twitter @fritzy.
Special thanks to: